The School Nurse is a resource to students and families in assisting to maintain the student's optimum level of health so that they can grow physically, emotionally, and academically.
Our School Nurses work alongside parents and guardians who have the primary responsibility for the health of their child. They often partner with local health care providers to be sure students receive well-managed care.

​Vaccinations are required for children to attend school in Pennsylvania. Your child may be excluded from school if vaccinations are not kept up-to-date. Please work with your school nurse to keep vaccinations up-to-date or to complete an exemption form. This link will provide you additional information about vaccines - Click Here.
Every year, School District health service providers are required to complete various health examinations for each child. Your child's school nurse (or designee) will complete the required examination each year. This link will provide you with additional information about the health examinations - Click Here.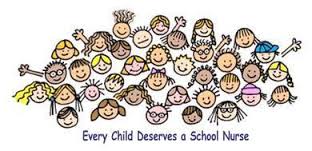 Stay Healthy!
Wash your hands often throughout the day.

Cover your mouth when sneezing or coughing.

Avoid touching your eyes, nose or mouth.

Get adequate sleep at night (8-10 hours).

Do not share drinks or food.

Eat from all food groups on the food pyramid, as recommended.

Exercise 3-5 times a week.

Dress appropriately for the weather.

Interact and have fun with friends.

Find healthy ways to relieve stress.
Wondering what BMI is all about? You may have heard that our schools conduct individual, growth assessments every year on all students. In addition to measuring height and weight, we calculate the BMI, which stands for Body Mass Index. This is a state-mandated program, so check out this link to understand more about BMI -
Click Here
Medication Administration at School
There has been a change to our district medication policy. Students are NOT permitted to bring any medication to school or take home medications. ALL medications must be brought into school and picked up by a parent or designated adult. If you have any questions, please contact your student's building nurse.
All medications should be brought to the school in their original bottle or package from the store/pharmacy/doctor's office and clearly labeled with the student's name and directions for administration.
Prescription Medication
:
Administration of prescription medication to students shall be done only in circumstances when the student's health may be jeopardized without it. A medication form completed and signed by the physician and the parent is necessary before any prescription medication may be administered at school.
Tylenol: Acetaminophen may be administered to students and staff as per SASD Policies and Protocols for School Health Services at the discretion of the school health room licensed staff with written permission by a parent/guardian noted on the School Emergency Form. Verbal confirmation from parents of elementary school students is required before AM administration (to avoid repeat dosage). Parents are to be notified if a student requires more than one dose during the school day.
For over-the-counter medication, only the parent/guardian needs to complete the medication administration form and the requested dosage should follow the recommended dosage on the label.

Cough Drops: Cough drops and lozenges are not considered to be medications. However, for safety reasons, they are to be kept in the nurse's office. They are to taken as needed according to package directions. Parental permission is required for all students in grades K-3 before cough drops/lozenges may be taken at school.
Many students have allergies to specific foods. Our nurses and food service staff want to provide healthy meals that take into consideration the food allergies present in our student population. The food service staff are able to provide alternative
food choices based on the input from the parents and the child's physician. Please complete this
Medical Plan of Care for School Food Service
form if your child has a food allergy which needs to be addressed by our health care and/or food service staff. This completed form will be shared with school staff, as needed.
Asthma Inhalers and Epinephrine Auto-Injectors
A student (or parent/guardian) may request to self-carry an asthma inhaler or an epinephrine auto-injector during school hours. The student must demonstrate to the nurse the ability to know when and how to administer the medication related to the inhaler or the auto-injector. School staff will be notified that the student may self-carry the device. Upon use of the device, the student will report directly to the nurse who will evaluate the student and document use of the device. Parent/Guardian will be notified immediately of use. SASD Board Policy 210.1 provides additional information regarding the possession and use of asthma inhalers and epinephrine auto-injectors. Asthma Inhalers and Epinephrine Auto-Injectors Consent form.